I've been watching the progress of RebelMouse since its beginning and it has become a kind of tradition for me to talk to its founders every two years in order to discuss the changes the platform has made since the last time we spoke. So when RebelMouse announced they'd shut down the free version of their product it was time for me to get another interview. This time, Megan Berry has answered my questions.
(Eine deutsche Zusammenfassung können Sie unter http://www.annetteschwindt.de/2016/09/14/das-neue-rebelmouse/ nachlesen.)


In its first version Rebelmouse could be used as an aggregator for postings coming from social media or RSS. The Rebelmouse page was customizable and could be embedded on a website. In addition to that, one could publish posts directly on the Rebelmouse page and distribute them to social media from there. This part has evolved to become an own kind of CMS to run a whole domain or subdomain.
When I interviewed Paul for the first time in 2012 he said that those "embeds will always be free". But recently you've announced that the free version will be shut down in September 2016. So all those who have been using Rebelmouse as a social media newsroom on just one page of their website won't be able to do that anymore. Instead you encourage them to get one of the following three new paid versions:
Rebel Discovery
Rebel Runner
Rebel Roar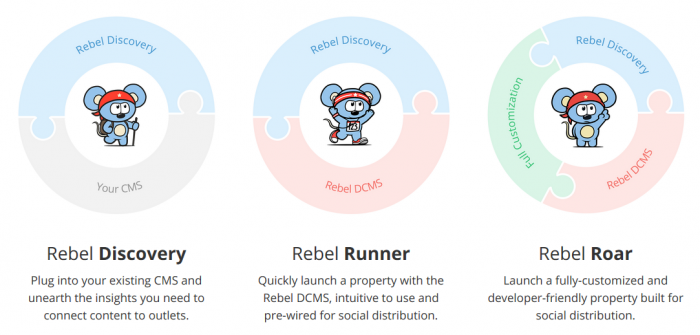 As far as I understand, Rebel Runner is the above said CMS that is pre-wired for sharing on social media. And if I get it right, then Rebel Roar is a kind of premium version of that. But Rebel Discovery is explained as something to plug in to my existing CMS. What exactly does that mean and how does it work?

Hey Annette, great to hear from you! Honestly it was a very hard decision for us to shut down the free product. These were our early users (like you 🙂 ) who believed in us before anyone else and as you mentioned, in 2012 we didn't foresee that we would ever remove our free offering. But startups have to evolve to survive and as the company grew and we continued on our mission we realized the biggest opportunity and market fit for us was with enterprise companies who wanted a partner who could really provide power tools that helped them do well on the social web. As a startup focus is incredibly important for us and we realized that we couldn't keep up the free product to a quality level while focusing on our core enterprise products.
Our core product is what we call a Distributed CMS (or DCMS for short).  It's what's driving sites like thedodo.com, hub.united.com and seeker.com (a Discovery Networks site).  That would be a replacement for solutions like WordPress VIP or Drupal.
Built into the DCMS, though, is Rebel Discovery, a plugin that can be used with any CMS. Rebel Discovery is a Social Media Optimization tool that allows you to find and develop relationships with influencers on Facebook and Twitter. Think of it as a CRM for Social Media.
What we're trying to eliminate is the 'post and pray' mentality with social media publishing. Instead of hoping a post hits that viral inflection point naturally, we're giving publishers the ability to take control and hack virality through relationship building. This is how thedodo.com gets engagement rates over 100% regularly. Companies that do this the best are the ones that are going to survive all of the algo changes at Facebook and any other social network.

I'm sure people appreciate your hesitation about taking away the free embeddable feature. I think if there were another service out there that could replace the aggregator function (like friendfeed had done many years ago and then was deprecated too) people would take it easier. But I don't know of any other that could provide the same features. Do you?
As for the changes RebelMouse went through: Do I get it right in visualizing it as follows:
1) You started with aggregation from social media (black arrows) to a single page that could be embedded on a website:
2) Then you added an editor to the backend in order to also publish to social media (red arrows) and you added tabs for different kinds of content to the RM page that was still embeddable to a website:

3) Finally you took away the free aggregating part in order to focus on the publishing which then of course should come from the website itself where RM is used as a CMS:

This is only consequent in times where people usually get to a website from a link that has been shared somewhere on social media rather than visiting a website's homepage and then clicking further through the navigation. Is the aggregation part still an option in the CMS though? Or has that gone completely?
As for the Discovery tool: it identifies influencers one can contact to ask them to share one's content. Forgive my maybe silly question but influencer relations are a touchy subject over here. Many businesses haven't got the hang of it yet and rather go for quantity than quality which means they'd spam you with requests you haven't asked for. How would you advise people to best use this feature?

In terms of other companies doing exactly the same thing as our previous product — I'm not sure — but I think you'll see from the below why we don't think the previous version of the product was as effective as wanted it to be
Those diagrams are great! I'm not as gifted doing them so I'm going to address in a slightly different way but I hope it makes sense. Let me know if not!
Our new CMS is more focused around what people actually *share* on social. Again and again we see that they don't share front pages, they share articles. So the article is the new "front page" and, even if that front page is made up of social posts it's less effective than a great article page. We never saw a tweet wall go viral — yes, someone might share it once, but the next person who saw it was even less likely to share it and it became very hard to build the organic traffic growth we were hoping to see. So our CMS focuses more around article pages (where most viral moments happen) but with these strong social components:
the ability to easily add social content INTO an article (i.e using social embeds as part of the content in your article) as a main focus
You can still aggregate content but we recommend that more as a little sidebar feature or similar rather than the main thing you're doing since it's not as likely for users to share this way
Our new discovery tool heightens the possibility of your articles being shared by sharing the right content with the right influencers. You may have just written a post about Rescue Dogs and our discovery tool can help you find relevant pages. Here's a snapshot from our tool of that exact search:This tool can be used not just on articles on your website but also native social content like Facebook videos that you might want to promote
— Annotation: While Megan and I were having this conversation I got the chance to have a closer look inside the new features in a demo tour (thanks a lot again for that, Megan, Paul and Jeffrey!). —

I see, so Discovery is part of all three versions. It not only analyzes who might be likely to share my content (based on their previous relation to me and my tags) but also offers statistics on what effect those shares have so I can decide whether and how to grow my relation to the respective sharer from there. At the moment you offer these analytics for Facebook pages and Twitter, more platforms might be added later. This sounds really interesting but seen the fragile state that influencer relations are in over here in Germany I'm not sure this would work here (yet). We'd also have to struggle with German privacy restrictions when it comes to embedding but that's another story.
As far as I can see the social pre-wiring and the ability to build a website by drag&drop (as Jeffrey explained in the tour he gave me) would be the main selling points here in Germany. This is of course easier as getting my own webspace, installing a CMS like WordPress, find a theme that works for me and then add all the share optimization with plugins and/or my own developer. The advantage of the WP solution though is that I'm in control of what happens with my website and I can change things anytime I like rather than depending on changes the platform comes up with.
Where would you see the difference between the RM solutions and other DCMS like for example squarespace? Why haven't you made the pricing visible on the website? Is it because it is for big publishers only? Aren't NGOs or smaller businesses interesting too?

So glad you got the tour to understand things in-depth! The one thing I'd say is that our Discovery tool has the power to become a tool that eventually everyone doing social on a professional level needs just like Salesforce became a tool that almost every salesforce uses (or a tool just like it). Right now those who use social professionally have either an actual spreadsheet of contacts, a twitter list or a list in their head of the people they reach out to when they have certain types of information or updates. Sales teams used to keep their sales contacts in spreadsheet as well but eventually that slows you down and reduces the amount of information available to you. Discovery has the power to be THE CRM for Social and Sharing in a way I think the industry can get tremendous use out of.
Regarding the website itself — I would say while the drag and drop feature is interesting, much more interesting are the tools we have to help you distribute that content.
Just to name a few examples:
Our SEO tools like search discovery that improve your chances of being ranked higher on google
Our social discovery tools we've already discussed
Share bars that dynamically change based on the network you're coming from. I.e. if you come from Pinterest, the pinterest button is shown first instead of the usual Facebook share. This has increases Pinterest shares for our clients
The ability to change the social descriptions and headlines shared to social and run A/B tests on them to ensure your post is being shared as much as possible
Facebook Instant Articles and Google AMP integration.
The goal is to help you distribute your content as widely and as well as possible 🙂
Re pricing listed on the site — we are an enterprise-focused product right now and as such it's quite common for pricing not to be listed on the site because there are a lot of custom options that a client might want and it's easier to talk them through that and then price then to account for every possibility online. As we move forward we hope to be able to have easy self-serve options where pricing would, of course, be listed online but that's not where we are quite yet 🙂

Thank you for taking the time to explain the changes to me and to my readers. I'm looking forward to see how things develop with RebelMouse.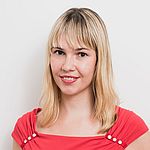 About Megan Berry:
Megan Berry is VP of Product at RebelMouse. She previously led community and marketing at Klout, after joining as their fourth employee. She has written about community, product and influence for Mashable, The Huffington Post, Amex OPEN Forum, and Brazen Careerist. Megan graduated from Stanford.
—
Disclaimer:
I'm not paid for this article but am merely interested in documenting the changes of the platform and follow up on my previous conversations with the RebelMouse team.