To my surprise my dear PR collegue from Switzerland Marcel Bernet is an artist too! So I asked him to answer my questions for this blog too. And now that his website is finally online, I got the okay to publish the following interview:
Please introduce yourself:
Marcel Bernet, 53, sculptor
What is your definition of art?
An expression of your connection with your inner self, your ideas, your emotions. Something, that escapes definition and probably only can be sensed. By each of us very differently.
Why have you become an artist?
Because art has always inspired and touched me. I have been searching for the right expression for many years, always drawing and painting besides my business career. Then I saw a sculpture done by Stephan Balkenhol and it was clear that some day I wanted to try something like that. Without putting myself in any way close to this great artist. It took me four years to finally dare visit a wood sculpturing course at Sculpture School in Peccia.
After that it was clear that I had found my way of expression. Since 2009 I dedicate 20 percent of my time to art, hoping to expand that share.
What is your favourite artwork of your own and why?
That changes from piece to piece. Right now I cannot let go of «Beziehungskiste Lila», so I won't give it to my Gallery for a while.
How do you work?
I am collecting ideas when walking through the streets, looking at people, situations. That leads to sketches, which I sometimes use. The real work starts when I choose the piece of wood and I stand in front of it: What is hidden inside of it and inside of me? Where is the match between the two? In the course of chopping out the final form, things change often. It is like a flow or a special way of dance. There is the limitation of the block's measure, but there are also sudden new ways that open.
I very much like the second part of my work: Painting the piece is like caressing it, rediscovering what happened before. Mixing together the pigments is like alchemy. And again: I have an idea, but reality evolves in a open dance.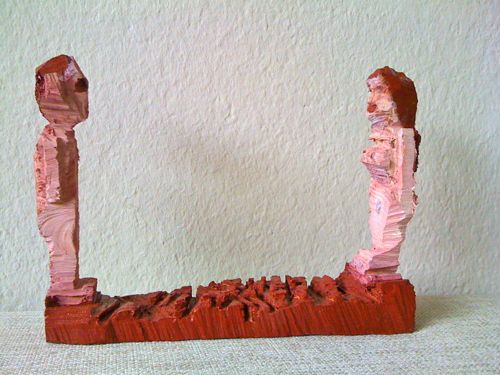 Who is your favourite artist?
My favorite three sculptors are Stephan Balkenhol, Peter Leisinger and Georg Baselitz.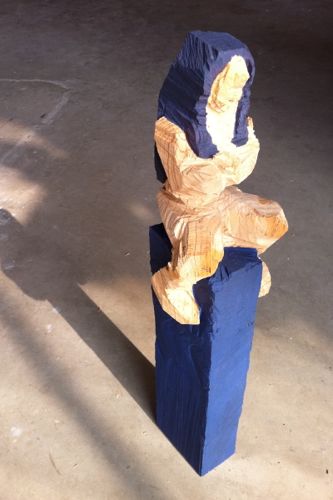 What is your favourite material to work with and why?
Wood. Because it has the right mix of durability and flexibility. I work out my form with a chainsaw and I let it that way in the rough. It is like painting with a thick pencil.
Could you live without making art?
I hope I never have to. After a broken shoulder I could not visit the workshop for a while. If I could not use my hands I would probably use my voice or whatever? Isn't everyday life in itself a form of art?
Where can others find you on the web?
On www.marcelbernet.ch
Merci, Marcel!
All photos © Marcel Bernet