Another artist who has been featured in the first series of interviews over ten years ago is Helen Dearnley. We're still in touch and so I asked her if she'd answer my follow up interview too:
When we met over ten years ago, it was on Myspace. Today we chat on Instagram or even Skype. How has your digital presence changed over time and does it make any difference to the good old days of Myspace?
Myspace is a vintage relic from history now, such is the fast paced evolution of the digital world! Myspace was how I collaborated with Magne Furuholmen for his Scrabble exhibition and installation originally, back in 2007.
Then Facebook became the platform for Apparatjik collabs and other projects.
I ran a graduate art group called Lincoln Artists' Network, and that was how we would gather together graduate artists and organise events, exhibitions and publicise it.
I use Skype very rarely, mainly for international chats, such as our meetings, or for online meetings with artists elsewhere in the UK. It's particularly useful for artists that are parents with children at home to be able to join in with meetings such as the Laydeez Do Comics Kickstarter event with CEO Gemma Seltzer in London.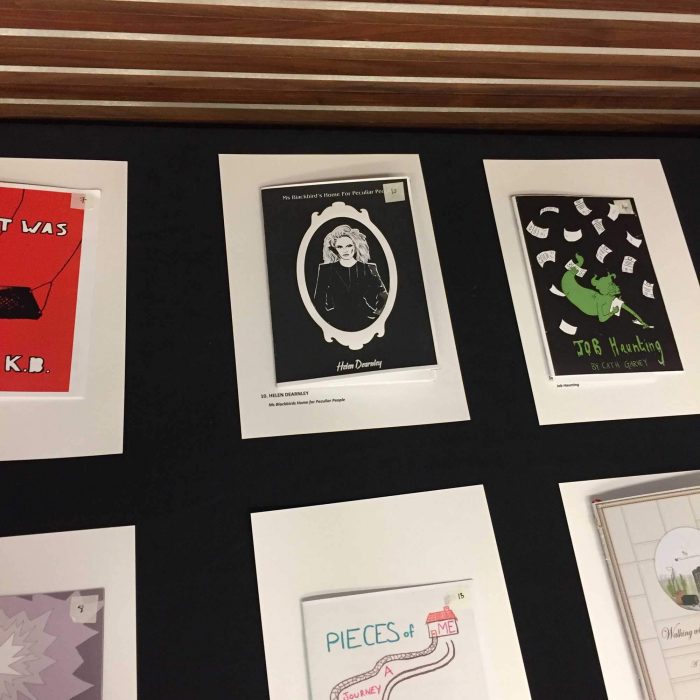 I use a variety of social media, with a professional Illustration Page on Facebook, twitter and Instagram, and Instagram was started very reluctantly, but has since led to some very interesting collabs, most especially the creation of the comic Taped From MTV with Canadian funk band Chromeo, who I met in London during their Head Over Heels tour, to give them the completed comics, and they did some prolific Insta sharing, as well as featuring in the tour highlights of the UK leg of their tour!
How does your digital presence help you as an artist in general?
Mainly for promotion of the merch side, and sales, but it's not as effective as I'd really like. Connecting with others to work with, such as a recommendation to work with Peace Painting, Norway via Facebook, keeping up to date with current issues, and for challenging existing norms.
The use of hashtags to attract interest in my work, along with things that are important for artists and illustrators, most importantly to protect against exploitation. #notahobby
I'm finding it harder to work in the age of austerity in the UK, but I make some sales of work online, and a recent Facebook fundraiser helped to prevent me going into my overdraft when needing some vital funds, to prevent destitution caused by the destruction of the welfare state that was condemned by UN rapporteur Philip Alston on his recent visit to the UK.
I ran three Kickstarter campaigns for my graphic novel, "Cloudbusting", in 2015 – 2016. They weren't successful. Not because it wasn't a great project, but due to algorithms, and Kickstarter's All-or-Nothing strategy, although I'm not sure why it wasn't successful.
I'm in the process of restarting a new Kickstarter campaign to get my graphic novel "Cloudbusting" published, with the support of a local TV personality, and Kickstarter CEO Gemma Seltzer, so I will be using it to promote my backers for a successful campaign this time.
My website stays up to date with all info and links for those seeking to commission work, information about my workshop pricing, and regular blog updates for followers.
How do you think you have changed as a person in those ten years?
As mentioned, I was doing some prolific work internationally with Apparatjik collaborations and international travel following graduation, with Lincoln Artists' Network.
But in 2013, my eldest son became ill and I had to stop a lot of creativity as he was suffering from depression and anxiety (he was coerced into leaving home and living with an abusive family), and was nearly driven to suicide.
Luckily, he eventually returned home with help from the police, but I have found it impossible to continue to work as an artist, due to being economically exiled by my role as a carer, the care crisis in the UK, the economic destruction of the welfare system, and cuts to arts funding.
I have become a shadow of my former self, still holding on to an ever dwindling hope that change will happen before it's too late, and I can save my career. But I'm having too much time wasted with pointless bureaucracy, and not as much time to create work alongside my role as a carer for a young adult needing mental health support.
How would you describe the way your art has evolved in this time?
I have gone on strike as a fine artist, refusing to work for free or low pay. The UK arts world is too exploitative, and I wasn't prepared to compromise the quality of my work for those that lowball the value of artists.
In 2016, I was awarded funding from the Norwegian Embassy to meet with Norwegian artist Catrine Gangsto, in Terrak, with an interest in running Peace Painting in the UK. I travelled from Trondheim to Terrak to meet Catrine and stay at her house, from there, we travelled to meet other Norwegian artists, including Tone Toft and her partner Bjorn, who live and work in Heroy.
I went to see how they run Peace Painting workshops, with a group of refugees from Afghanistan, and this led to me running a couple of Peace Painting workshops here in Lincoln. But funding ran out, the Arts Council kept rejecting the applications, and I could not realise our ambition to continue with that. Plus, Brexit has had a negative effect on the arts, as a lot of EU funding for UK artists is under threat.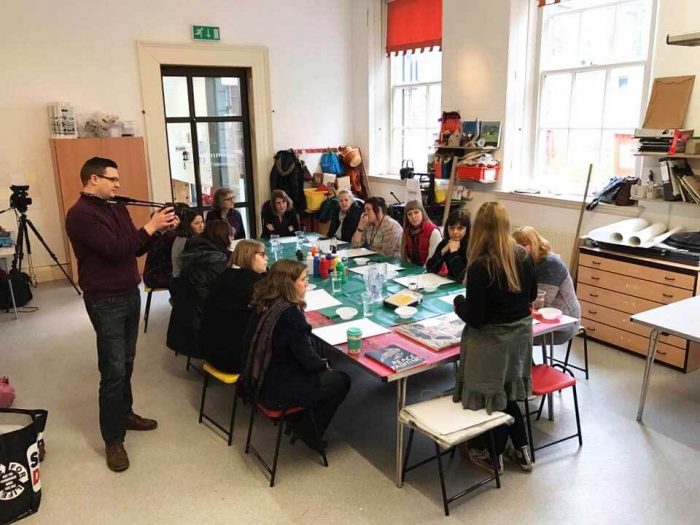 I had already reshifted my focus on my graphic novel "Cloudbusting" and my more commercial work as an illustrator, and since I finished illustrating it, I took more of a break to avoid self-exploitation.
In 2016, Portrait Of Ian Duncan Smith With Bandaged Nose (see cover photo of this article) was exhibited at the Institute Of Mental Health in Nottingham. But despite meeting Olympic swimmer Rebecca Adlington, the work didn't sell, and I was left to struggle financially again. This is because carers are not paid in the UK. I undertook some training in mental health as a carer, arts in mental health, and have developed some new workshops for this.
I am currently interested in ways to create art that involves the least amount of unpaid labour to produce. For instance, I took part in a sleep lab experiment, which involved being paid to sleep in a laboratory, with electrodes to measure my brain wave patterns. Effectively I was not doing much at all, except dreaming! I'm interested in turning these brain waves into sound waves, to create sound art literally from my dreams.
If you could have given yourself from ten years ago knowledge you have today, what would it be?
Carers training in mental health and safeguarding. But I could not have predicted that things would get this bad.
Anything you'd like to add?
It's great to reconnect again, and keep the Anglo-European connection strong (despite the terrifying Brexit nonsense). And good to have a shared understanding of how health can affect our time and ability to keep creating work.
It was great to see my work exhibited in Germany, and I hope to see more of my work in various other places!
All photos (c) Helen Dearnley
For more information see: www.helendearnley.co.uk
Thank you for your personal replies, Helen.
I hope that things will change for the better soon.