When my friend Pål H. Christiansen told me that he'd work on a new edition of Fjodor with Morten N. Pedersen, the illustrator who already did the Mons og Mona books with him, I was really happy. And now that the book has been published even more so. The new illustrations are heartfelt and cute but not too cute. Just right. So I asked Morten if he'd like to do a blog conversation with me and here we go: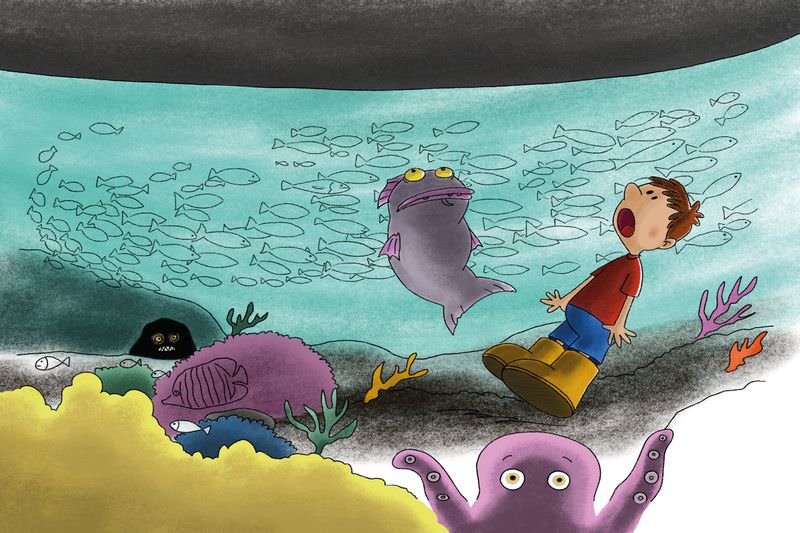 Hei Morten, thanks a lot for joining in to this blog conversation with me! I really love the way you've given Fjodor a new face. It's so much more heartfelt than the old illustrations. One can see that you like the characters of this children's book and that you live their adventures with them. But still the characters can be recognised from the old illustrations. So you've found a great compromise there. How did you approach the new illustrations?

Hei Annette and thank you. Yes, I really enjoyed illustrating the new edition of Fjodor. I had already worked with Pål H. Christiansen for a while but on the Mons and Mona books that we both wrote together and I illustrated.
This time I got to interpret his text and the challenge as you mention was also that it had been published before with another illustrator. I had of course read his books and seen the old illustrations, now I wanted to make it my own but to keep him recognisable at the same time. Pål gave me a lot of freedom to explore the character in a new way and the publisher also said they wanted something new.
Inevitably you'd get a new result since it would be done in my hand but I wanted to reinvent the characters to fit my expression better. I started of by reading the books again, taking notes of all descriptions of the characters in the text. Then I put away the books and started sketching. The dad has a beard and a yellow raincoat and the mom has a flight attendant outfit, so just by drawing that it would be reminiscent to the old illustrations without it being drawn the same way. That is pretty much how I felt I kept continuity but made it my own.
I also didn't have much time because the publisher needed a cover for the book that they could put in their sales catalog so I had to quickly get to a result I could be happy with further down the line. Time limit can be a good thing since it makes you work a little more focused but too little time is never good. In the end I managed to come up with a new design I liked and felt I would be happy to continue working with and luckily Pål and the publisher liked it too.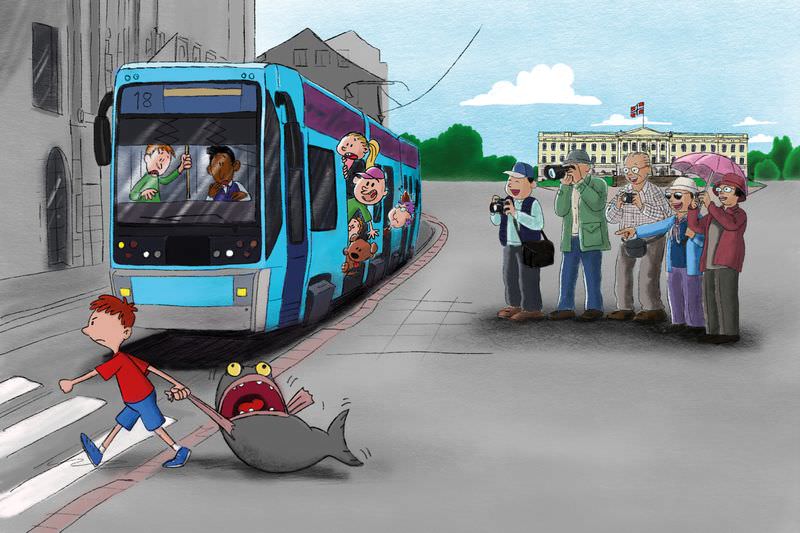 You said you worked with Pål helping him with online communications. Was that before Fjodor or was it through the original Fjodor books that you started working together?

Pål and I met in spring 2007 on Myspace when he was looking for German speaking a-ha fans because the German translation of his novel "Drømmer om storhet" had just been published. He showed me his handmade website and I bluntly asked him to let me make it better. He said yes! That was also around the time when the second Fjodor book "Fjodor i fritt fall" was published. I loved the nasty fish from there on and worked with those illustrations for an own part of Pål's website dedicated only to Fjodor. Unfortunately this part isn't there anymore. There we had children's drawings of Fjodor too! I also helped him to get Fjodor to Germany where the cheeky fish got his music that is now in part performed back in Norway too.
Over the years Pål and I became friends although we only spoke online or on the phone. In 2014 we finally managed to meet in person and we had a little party here with some friends who know him through me. One was a four year old boy who didn't realise that Pål was the author of his beloved Fjodor books. So he told Pål all about this fish. He even invented his own sequel where Fjodor swims to "Mexicoland" with Halvor the shark who has a bad tooth problem that even Pappa couldn't repair. But in Mexicoland they find a specialist who pulls all of Halvor's teeth out and makes him become a vegetarian. The little guy made us all draw Halvor trying to eat poor Fjodor but then not being able to chew or swallow and in the end spit him out again (unfortunately I don't have proper photos of them, only a few blurry snapshots:
So in case Pål ever writes that sequel, you know what to expect. 😉 We didn't manage to draw the scenes the way the little guy expected them to be though. But we're no professional illustrators. 😉 So maybe you have some advice for us? What are the things you have to respect if you draw for children? And do you get a lot of feedback from kids? Where do you get your inspiration from?

Those drawings were amazing! 🙂
I love children's drawings, they are so full of energy and imagination. Most people stop drawing when they grow older, I never stopped and I made it my career.
The best feedback I get is from children, they don't know who I am and they don't really care. They care about the book and the story and if it works they want to read it over and over again. So when I hear that a book of mine is some child's favorite and he or she wants to hear it every night, that's when I feel most flattered.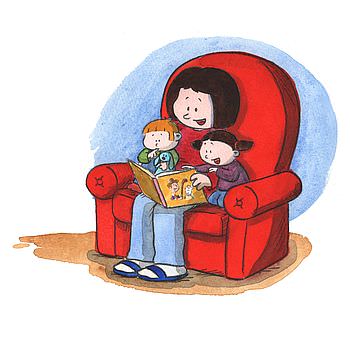 I like to simplify, boil it down, but keeping it full of content and meaning. There are some practical things like showing clear shapes, facial expressions and the use of colours, depending on the age group. But mostly I go by feeling and if it feels right I hope it works with my audience as well.
My inspiration comes a lot from remembering my own childhood, being observant and looking around me but I also love children's books and have several hundred to flip through for reference on layout, colour and technique or simply just to be inspired.
Your blog seems to mainly be in German and sadly I can't read German that well. What are the topics you like to write about on your blog? Is there a theme to it or is it random fields of personal interest? And also what is it you do on a daily basis?

There were three separate blogs in the beginning that have been melted into this new one. This fusion was a response to what my community and Pål already had known for a while: It's all Annette's so why have different websites? It took me a bit longer to realise that myself…
Before it had been
one blog for my professional stuff (I'm quite known in the German speaking digital community and have once written a bestseller about Facebook),
one blog for my personal stuff (my every day life and short stories etc., some of them are translated to English, see http://www.annetteschwindt.de/texte/ and I have illustrated one series with my own painting.)
and one blog for my interest in art: if you go to http://www.annetteschwindt.de/thema/kulturelles/kunst/ everything so far is in English because my art blog this came from was in English.
I originally come from journalism writing about cultural and social subjects, so this new website is getting back to the roots for me. Now I get a lot of great response (especially to my rather personal articles on discovering that I have Asperger's) and interesting requests that aren't focused solely on digital media anymore like editing or writing about all kinds of subjects. The new category "blog conversations" – like the one we're having right now – is my blog's specialty. And people seem to really like it.
So everything I do for payment or passion has something to do with writing: being a journalist, a consultant for digital communications, a topical editor, an author and blogger.
I love the arts too but I've never pursued them professionally. Sometimes friends come here to paint with me. I've experimented with acrylic painting for a while but had to stop due to lack of time, space and physical strength. I had developed my own technique of stereotype copying with extra pastous acrylics. That means I applied some thick blotches of colour on one canvas, then pressed another canvas of the same size on it, turned the canvasses as far as they would still move and then tore them apart. This created interesting gradients and structures.
What material do you work with or is it all digital from the beginning? I see you're also animating your drawings? Are you creating art apart from the illustrator work too? And how did you become an illustrator in the first place?

That is very interesting. I really like how you explore different mediums.
I originally started in animation and still work as an animator whenever a project turns up.
Around 2000 I started to feel the need to express my own ideas so I started developing as an illustrator. Animation takes a great deal of team effort but a book is something you can basically do alone. Originally I wanted to illustrate other people's work but since I wasn't known I wrote something myself and illustrated that. I found I really liked the whole process, it is really the most creative thing I can do. Being in charge of story and picture.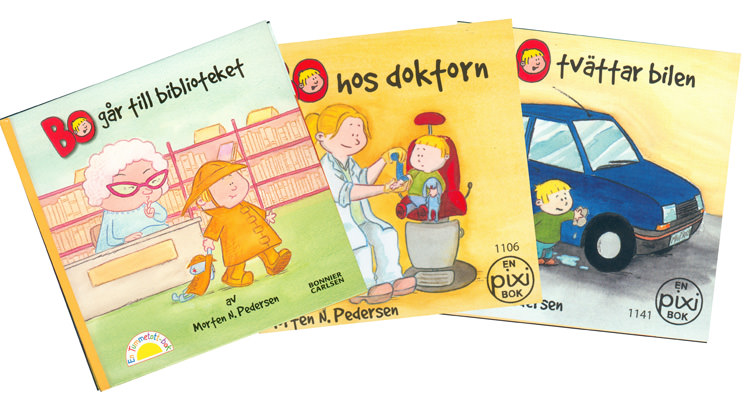 My heroes at the time were a lot of Swedish illustrators and they usually used watercolour, so I tried to emulate them before I fell into my own way of doing it. In the beginning it was such a daunting task, the fear of doing something wrong that couldn't be fixed. Watercolour is a tricky medium but also a giving one, and once I got comfortable with it I became bolder and freed myself up to explore and play. I was more able to make it do what I wanted and also started embracing the happy accidents that often occur with watercolour. I stuck with the watercolour all the way up to Fjodor actually.
I'm no stranger to computers but drawing I always did on paper. In animation we started drawing directly into the computer around six years ago, programs came out that let you draw by hand but on a screen and directly into the program you used. This eliminated a lot of time consuming work like scanning and cleaning up paper drawings. Colouring had been done on computers longer but with the new cintiq screens that let you draw directly on the screen that wasn't necessary anymore.
When Fjodor came to me I had to decide how to do it. I had limited time so I had to take that into considiration. By this time the iPad pro was out and I had just bought it to test the new pen that came with it. Before, the stylus was big and soft, resembling a finger tip but now the pen was shaped like a pencil. I tried it by sketching a couple of children's books in an app called Procreate, which I then printed out, put on my light table and redrew on watercolour paper and painted.
I was really happy with how natural it felt and how the workflow and editing possibilities made the work easier and I started to wonder if it was possible to use it for the whole process. Was it good enough to make finished drawings for print? I did some tests and when I realised that I could set the quality so high it matched the resolution needed for print I decided to go for it and draw the whole Fjodor book on the iPad.
That was a good decision because I'm not sure I could have made it traditionally in that time and also I liked the style that came out of it. I tried really hard to make it feel like it was drawn on paper by using pencil function, oil crayon and so on but also embracing the functions and technology and using it for my advantage. But as with animation, it was still handdrawn but in a program that eliminated time consuming stages and it made the whole process a little bit easier to manage. In the end I was able to do the around one hundred drawings the book needed in one month, but it was still a month drawing around the clock.
I love to experiment with different mediums and buy all sorts of art supply to test out and see if I can use it somehow but I never got into painting as an artist. How did your interest in the arts start? Did you go to school? I myself started working in animation when I was 20 and learned the craft that way and became a self taught illustrator after that.

Wow, so the whole Fjodor was done on an iPad?! That's great! What other apps did you use for it? Or just that one? I love to play around with the apps Bamboo Paper or just Paper. So far I haven't bought the stylus because it felt too large to do finer lines with it. But if you say that there is a finer one out now, maybe I'll give it another go? That could be an alternative for the web app Canva that I've used so far for making graphics for my blog.
I haven't gone to art school but would have loved to study art. I had a really good teacher in high school and entered in one or two contests where I won prizes. But nothing major, just school stuff. Acrylic Painting came to me when I got Magne F's Payne's Gray. It literally forced me to make art – but with strong vibrant colours. So watercolour was not my thing. Also I'm not the patient kind, which means that oil painting was out of question too. 😉
That's why I chose acrylics and I loved to work with it, especially with the extra pastous ones or in combination with structure paste or just thin paper like in "Paar" http://www.annetteschwindt.de/2011/01/03/paar/. I've also experimented with artificial rust and patina. The process of making was always the interesting part to me. Once I got into the flow, I forgot everything around me. When the painting was done I didn't mind selling it or giving it to family or friends – well most of the time. 😉
I can see in your illustrations that you're in it with your heart. You like your characters, don't you? I saw the Bo books on your website. Are these the children's books you also wrote yourself? They look a bit like Mons og Mona. And where does the cute elephant belong to?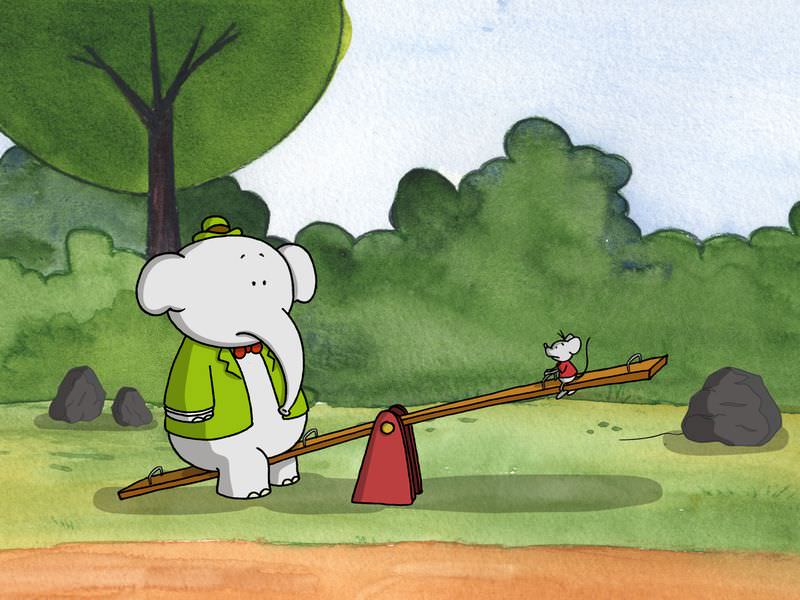 Yes isn't Magne Furuholmen's art career amazing! I love art. I love to go to museums and I have probably even more art books than children's books in my library. I would love to explore different ways to express myself and your "Paar" was really inspiring, I liked it a lot. I feel I eventually will free myself up to do more art like painting but for the moment I focus on illustration and animation.
The app I used was Procreate. I have tried most drawing apps available and Procreate is by far the best. You need the iPad Pro with the Apple Pencil for iPad Pro. Then you can draw almost as if you have a pencil on paper.
I do illustrate from the heart. The more secure you are with the technical aspect of it all, the more you can go after the feeling and rhythm of it. Think of a musician in a symphony orchestra. They need to know so much, have all the notes in their fingers and backbone and be able to read notes and take direction without problems, that way they can focus on the feeling, the expression and mood, making it art and not just sounds from an instrument.
The old disney animators said the same thing, you need to be able to draw anything, from every angle, only then can you deliver a heartfelt performance. Without comparison of course, I still have so much to learn, all artists feel that I think. But when it comes to my way of drawing the characters I'm used to, I am so comfortable that I can let go and really let the character come alive.
The Bo character was the character of my first book. By now I have made 13 books and I have written and illustrated them all myself. I have been asked to do a couple more for next year so now I am pondering new ideas to explore with that character.
Mons and Mona sprung out of this. Pål and I met when he tried to get funding for an animated film of Fjodor. So I got the job of animating a small teaser they could use in the application. That project fell through but Pål saw my books and had a great idea. He worked with the fruit and vegetable information office and pitched them the idea of making similar style books for kindergarten kids with a healthy agenda and focus on fruit and vegetables. They liked it and in the end we wrote four books together and one activity book they could give to kindergartens around the country. Now a big publisher has showed interest in it as well so it is very exciting to see how far we can take these characters now.
Which elephant do you mean? I like elephants so there are several on my website I think.
I also think it is remarkable and very nice to see that you pursue art and the other interests you have in this way. Not limiting yourself and just going for what you like to do and then doing it. I kind of felt like an outsider growing up, doing things my own way, but I was driven by this desire to draw and make that my way of living. Is there more openness in Germany to be yourself and doing it your own alternative and individual way?

No, I don't think so. The Germans are very bureaucratic, you need a document for everything.
I can relate to your feeling as an outsider. I always felt like an alien never understanding why on earth people act the way they do. Then only recently I discovered that is due to me not being "wired" as most of the others and that it's called autism. I thought autism was the thing where children sit in a corner, rocking themeselves and not ever talking or looking at someone. I had no clue that this was just one severe form within a huge spectrum of autism forms and that there are also people you wouldn't think they were autistic but maybe just a little different. And that the latter can remain completely undiscovered or at least for a long time. I was over 40 when I started to find out. As long as I had to go along with the others it cost me so much effort that it ruined my health forever.
So asking me about doing things my own way is in some way redundant. 😉 I have to do it like that or I'd shrivel and fall apart.
Thanks so much for the compliments about my painting. That one was ordered by my parents-in-law for that space where you now can see it hang. I used the silk paper from one of my husband's shirt wrappings for it and glued it to the canvas with binder and colour. It was great fun working on it and we still discuss which figure in the painting is my mother and which one my father-in-law. 😉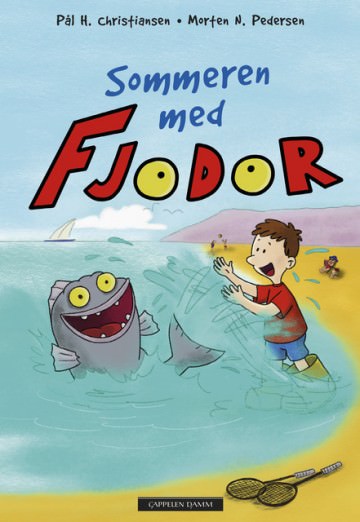 Yes, I know the story of the Fjodor animation. I would have loved to see a whole film with him… Maybe sometime later? I'm also looking foward to hold the new Fjodor book in hand but I'll have to wait until Christmas, Pål said. 😉
I didn't know there were different elephants, I just saw some and liked them. I will explore your website* a bit more closely then. 😉 And thanks for the technical tipps about drawing with an iPad too. So it's not only time for that pen but also for a whole new iPad for me. 😀
[UPDATE: Morten's old website isn't online anymore. Instead I made this one for him: https://www.mortenpedersen.no ]
Well thanks so much for this conversation, dear Morten. I wish you and Pål a lot of success with Fjodor and your other projects! Just make sure you always have enough pølser and cigars at home or the fish will get grumpy! 😉

Yes we don't want to enrage Fjodor, he has quite a temper. 🙂
Thank you so much for this conversation, I really enjoyed it. And good luck with all your projects as well. I look forward to following your blog from now on.
About my conversation partner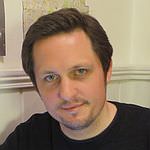 Morten N. Pedersen is a freelance illustrator and animator in Oslo, Norway. He started his career in animation and has worked for Dansk tegnefilm Production, Pennfilm Studio, Filmkameratene, Qvisten Animation AS and Mikrofilm. He worked as an animator on Toril Kove's Oscar-nominated short film "Me and my Moulton" He has written and illustrated several children's books since his debut in 2004. He is currently out with a new book as an illustrator about Fjodor the fish.
Photos and illustrations apart from those of Halvor the shark © Morten N. Pedersen